The news that Glasgow School of Art will be rebuilt after June's disastrous second fire is a victory for Charles Rennie Mackintosh's masterpiece, for the city – and for us all
t is hard to think, out of all the great and historic buildings in the British Isles that might be lost to fire, of any destruction more heartbreaking than that of Charles Rennie Mackintosh's Glasgow School of Art. It is not just that it is "one of the very best buildings of the early 20th century anywhere in the world", as the Glasgow-raised writer and architect Douglas Murphy says. It is also that its particular spirit grew from its life as a working art school ever since its first phase opened in 1899.
The creativity of Mackintosh and his craftspeople, in other words, was not the end of the story, but the setting for that of decade after decade of students. His design allowed their exploration: the rare delicacy of its stained glass and metalwork was combined with bare concrete and rough boards that bore the marks of punishment. It was perilous to be so fragile and workmanlike at once, a riskiness that contributed to the first of its two fires, started in May 2014 by a student project going wrong.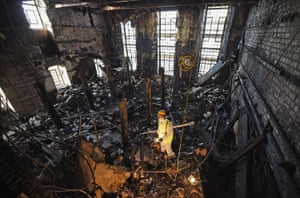 All the more reason, it has been argued, why we shouldn't be bothered to restore it, after a second and more devastating fire last month. What's gone is gone, said the architectural professor Alan Dunlop and the London design guru Stephen Bayley. Better to cart away its surviving stonework. Let some new Mackintosh demonstrate his or her talent. A new competition should be organised, said the professional competition organiser Malcolm Reading. The great man himself was forward-looking, said Bayley, so wouldn't have wanted "a lame reproduction".
Despite which arguments it is extremely welcome newsthat the school's director, Tom Inns, has announced: "We're going to rebuild the Mackintosh building… it is critically important that the building comes back as the Mackintosh building." The main, overwhelming reason is this: it was a wonder, so why wouldn't you want it back if you could? The hard question is, how do you actually achieve this task?

The nature of its wonder was in the romance and audacity of a structure that piled above Sauchiehall Street like a crag or a castle, but could switch moods on its other side – without changing its palette of materials – to a large-windowed web of fine stone and skinny steel. It was in the carefree way with which Mackintosh, who was in his 20s when he won the competition to design the school, broke and remade customs of symmetry and composition.
It's worth remembering that most old buildings have been remade repeatedly during their lives
It was in the unprecedented way that the design balanced verticals, horizontals, openings large and small, straight lines and curved, and expanses of blank wall with flurries of intense ornament. There was sheer joy in the naturally inspired motifs; playfulness in taking lines for a walk, and in having fun with the slopes around the edge of the site. Which didn't preclude, when need demanded, the hard-headed use of industrial steel and glass.
The interior – in fact the essence of the building, of which the exterior was an expression – turned Mackintosh's fertile invention to the purposes of the art school. There are multiple moods, proportions and effects, and echoes and contrasts. A long ground floor corridor, with plaster casts emerging from pools of shadow, served bright, voluminous studios on one side, before reaching the high, layered, Japanese-influenced library. The main stair rose from darkness towards light. The long shape of the main corridor repeated at the top of the building as a glazed gallery called the "hen run", what was tenebrous below now filled with light.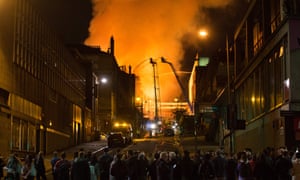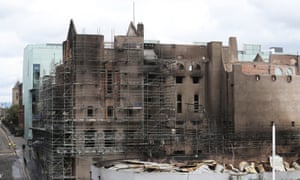 The Mackintosh building offered journeys of the imagination while also doing a job. It was the miraculous flowering of a unique moment, when the zenithal power of industrial Glasgow aligned with a belief that art should be cultivated as well as business, and when new techniques of making by machine were matched by still-strong traditions of making by hand. It was a time when new kinds of architecture were ready to grow from the ground prepared by the theories of John Ruskin, William Morris and Eugène Viollet-le-Duc.
In Vienna, Paris and Chicago, architects were finding out ways in which the design of buildings could respond to industrial society, a process of discovery from which Mackintosh learned and to which he contributed. It was also a time when countries and regions such as Finland and Catalonia were recovering architectural identities squashed by larger neighbours. Scotland too: part of the significance of Mackintosh's work is the way it reinvents national character.
This was a bubble in time – unrepeatable. But its spatial manifestation in the Mackintosh building is not unreplicable. It's likely that metalwork and stonework can be salvaged. It was demonstrated, after fire wrecked the 17th-century house of Uppark in Sussex in 1989, that the skills existed or could be developed to restore it, so the same will be true of Glaswegian construction at the turn of the 19th century.
If there is understandable unease at the manufacture of simulacra, it's worth remembering that most old buildings have been remade repeatedly during their lives. Few people realise how much the present Parthenon is a work of the 1920s. In London there are City churches, such as St Ethelburga's Bishopsgate, rebuilt after bombings by the Luftwaffe and the IRA that are appreciated as if they are wholly antique. Indeed, if London had had a Mackintosh there's not much doubt his greatest work would be restored – the nearest the capital got to his originality was John Soane, whose Dulwich Picture Gallery was duly rebuilt after it was hit by a flying bomb in 1944.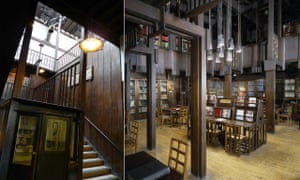 It won't be an easy job. Good restoration requires not only skill, knowledge, sensitivity and suppression of ego, but also a guiding intelligence that informs the choices of detail. An essential first step, before launching any glossy competitions, is a profound and informed research into the philosophy of the restoration, informed by the best comparable work elsewhere. How, for example, do you capture spirit as well as detail? How do you acknowledge the building's turbulent history without making a cult of damage? How do you achieve a wholeness in the completed work without the "icy perfections" that Mackintosh derided? How do you recover the beauty of his spaces, which is surely the primary objective, while also allowing his openness to events? These questions require thoughtful and subtle answers, and are fundamental to the success of the project.
It is of course impossible to read the dead architect's mind, but as most of his profession are protective of their babies there's a fair chance he'd have wanted it brought back to life. We should also mistrust fakery and cringing before the past. In general, innovation should not be stifled by a misplaced concept of tradition. The young and brilliant should get their chances. But to recover this particular building would not be a statement of defeatism. It would be an act of faith in something extraordinary and in the city where it could happen.
The new work will not achieve precisely the same building as the one that burned. It might take decades of life and use to recover all of its present spirit. But a society grows great, as the Greek proverb has it, when the old plant trees in whose shade they know they shall never sit.
Rowan Moore The Guardian